Abarth 500 '09
Appears in
Gran Turismo 6
Gran Turismo Sport(Update)
Interior in GT6
Detailed
Manufacturer
Abarth
Displacement
1368 cc
Drivetrain

FF

Engine
FIRE T-JET
Max Power
133 HP / 5500 rpm
Performance Points
371 PP
Max Torque
133.0 ft-lb / 4500 rpm
Top Speed
(MAX)
Length
144.0 in
Width
64.1 in
Height
58.5 in
Weight
1,035 kilograms (2,280 lb)
Power/Weight Ratio
7.78 kg (17.2 lb) per horsepower
The Abarth 500 '09 is a hatchback produced by Abarth. It appears in Gran Turismo 6. It is also available in Gran Turismo Sport, where it was added as part of Update 1.25, released on August 29, 2018.
Five colors are available for this car:
Bianco Gara
Bianco Iridato
Grigio Campovolo
Rosso Officina
Nero Scorpione
In-game Description
Edit
"The second return of Abarth is the timeless '500'; bold looks and bolder driving performance."
Abarth & C. made a welcome comeback in 2007 with the release of the Abarth Grande Punto, a model based on the Fiat Grande Punto. This historic Italian tuning brand has an unrivalled heritage, producing many high-performance cars in years past.
In the following year at the Geneva Motor Show, the new car Abarth fans had all been waiting for was revealed - the Abarth 500, based on the new Fiat 500 which made its sensational debut in 2007.
The new Fiat 500 cleverly renewed the 2nd generation Fiat 500 in a modern design, and its rounded styling and quick driving response led to instant popularity.
The power unit is a 1.4 L 4-cylinder DOHC that has been turbo tuned, producing 133 BHP and 21 kgfm torque. This propels the lightweight 1,110 kg body from 0-62 mph in 7.9 seconds, with a top speed of 127 mph. These are numbers clearly beyond the norm for this class of car.
The suspension mechanism remains standard, with McPherson struts in the front and torsion beam in the rear, but the springs and dampers are specially reinforced for this model. In addition it is given a variety of electronic devices including the TTC, which acts like a limited-slip differential. This gives the car solid stability when cornering, completely betraying the initial impression one gets from its tall, round shape.
From a visual perspective the car is no shrinking violet either; large aerodynamic front and rear bumpers, as well as side skirts and a roof spoiler, leave the onlooker in no doubt that this is a fully fledged Abarth.
Acquisition
Edit
The Abarth 500 '09 can be purchased from the dealership for 29,500 Credits. A tuned version of this car can be acquired if the player obtains the gold prize in the Challenge 1 of Sierra Time Rally. It is a detailed car.
This car can be purchased in the Abarth section of Brand Central for 29,500 Credits.
Due to the car's interior being right-hand drive, it is possible that the modeled version is for the Japanese market, where it is a popular foreign car due to car's dimensions being under 1,700mm wide and having engine under 2000cc, allowing the car to qualify for "5" tax class bracket. Despite this, the car has European-sized license plates.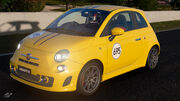 Community content is available under
CC-BY-SA
unless otherwise noted.