Acura INTEGRA TYPE R '97
Appears in
Gran Turismo (RM)
Manufacturer
Acura
Drivetrain

FF

Engine
B18C
Max Power
197 BHP
Max Torque
130 lb-ft
Weight
2,594 pounds (1,177 kg)
Power/Weight Ratio
5.97 kg (13.2 lb) per horsepower
The Acura INTEGRA TYPE R '97 is a Road car produced by Acura. Its only appearance was in the original Gran Turismo. The Type R is present in newer titles, however the '97 model has been absent after, being replaced with the '98 and '01 models.
In-game description
Edit
Introduced 1997, the Integra Type R features a 195 hp, 1.8 liter, dual-overhead-cam, 16-valve VTEC inline 4-cylinder engine that puts out more horsepower per liter than any other normally aspirated mass-produced engine in the U.S. One of the Type R's most notable engineering achievements is its high-revving VTEC engine. Features unique to the Type R include hand-polished intake and exhaust ports and single-port intake manifold; a larger-diameter exhaust system to allow larger volume flow; and a torque-sensitive helical limited-slip differential. Outstanding cornering response and enhanced braking performance also are hallmarks of this limited edition vehicle. These are made possible by features such as overall vehicle weight reduction, lower overall vehicle height and aerodynamic refinements, racetrack-calibrated suspension, high-performance tires and lightweight aluminum alloy wheels, larger disk brakes with performance-oriented calipers, etc.
Acquisition
Edit
The Acura Integra Type R can be purchased from the Honda/Acura        Dealership for 22,280 Credits and selected as an available vehicle in Arcade Mode listed under the B-Class. All this is only possible in the NTSC-U version of the game.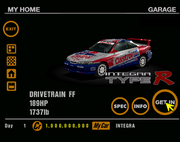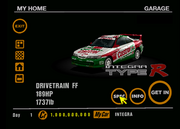 Community content is available under
CC-BY-SA
unless otherwise noted.