The Acura NSX '04 is a road car produced by Acura. It appears in Gran Turismo 4, Gran Turismo PSP, Gran Turismo 5 and Gran Turismo 6.
Colors
Seven colors are available for this car:
Silverstone Metallic
Grand Prix White
Rio Yellow Pearl
Imola Orange Pearl
New Formula Red
Long Beach Blue Pearl
Berlina Black
Description
"This third-gen NSX features significant exterior changes, including fixed headlights and 17-in. wheels."
The Honda NSX was sold as the Acura NSX in the US.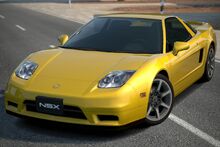 The NSX could well be considered Japan's first mass produced supercar. The car underwent its first significant "minor change" in 1999, and then at the end of 2001 Honda designers decided to dramatically update the NSX's styling. The biggest change they made was to the car's front end, swapping the pop-up headlights for fixed rectangular ones. They also reshaped the front bumper, hood and doors, as well as redesigning the taillights and adding a new bumper skirt. To improve the car's road-holding abilities, the NSX's tire size grew to 215/40R17 up front and 255/40R17 at rear, wrapped around 17-in. forged BBS wheels.
The suspension was completely returned to accommodate the new tire size, and as a result the NSX's handling prowess improved, making it one of the best-handling cars in the world. Not much later, Honda announced the arrival of the NSX Type R.
Even after eleven years, the basic qualities of the original NSX remained unchanged. This is a testament to the creators of this elegant performance machine. Sure, the displacement of the engine grew slightly, and there was the addition of a 6-speed manual gearbox, but for the most part, the NSX remained true to its original form and formula, making it one of the most timeless machines to ever come out of Japan.
Acquisition
GT4
This car can be bought at the Acura dealership for 94,440 Credits.
GTPSP
This car can be purchased for 94,440 Credits.
GT5
This car is a Standard Car, and can occasionally be bought at the Used Car Dealership for around 81,000 Credits. The exact price of the car may vary depending on the mileage. It is a Level 5 car.
GT6
This car can be purchased for 94,440 Credits. It is a simplified car.
Notes
Community content is available under
CC-BY-SA
unless otherwise noted.