The Audi RS 6 Avant '02 is a Road car produced by Audi. It first appears in Gran Turismo Concept, and has appeared in every main game since, with the exception of Gran Turismo Sport.
Colors
Six colors are available for this car:
Avus Silver Pearl Effect
Daytona Gray Pearl Effect
Ebony Black Pearl Effect
Misano Red Pearl Effect
Goodwood Green Pearl Effect
Mugello Blue Pearl Effect
In-game description
"A high-performance model by quattro GmbH that takes the S6 to the next level."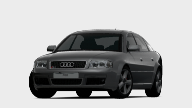 The Audi RS 6 is an ultra-high-performance model tuned by quattro[1] GmbH, now known as Audi Sport GmbH, Audi's subsidiary works-tuning company, and is based on the S6, a sportier model which is in turn based on the Audi A6 luxury sports sedan. While some automotive manufacturers dress their higher performance models to further differentiate them from the standard vehicle, Audi took a more subtle styling approach. There are no flashy aerodynamic parts on the RS6, which made its world debut at the 2002 Geneva Motor Show; the only hint of the overwhelming performance you get is from the 255/40R18 tires. The interior is also nearly identical to that found in the original A6, a black dashboard, Recaro leather sports seats, and an emblem on the steering wheel being the only identifying marks that this is the potent RS6.
Aesthetics aside, there is nothing subtle about the raucous engine, a twin-turbocharged 4.2-liter DOHC V8 equipped with Audi's special 5-valve technology. Its maximum power output is a mind boggling 444 BHP, with a maximum torque of 412.9 lb-ft.[2] The transmission is a 5-speed automatic with Tiptronic manual gear selection technology (no manual transmission was offered). Greatly aiding to the car's handling was an advanced dynamic ride control system. Developed by Yamaha in Japan, it was an updated and more refined version of the RIAS used in cars like the Toyota Supra. Four dampers are connected in an X shape, to secure a high level of grip. And while the Audi RS6 is a fairly heavy car at 1840 kg, it can accelerate from 0 to 60 mph in a mere 4.9 seconds. A station wagon version called the RS6 Avant was also made available.
Acquisition
GT Concept
This car is available to the player in Arcade Mode from the beginning.
GT4
This car can be bought at the Audi New Cars Dealership for 117,060 Credits.
GT PSP
This car can be purchased for 117,060 Credits.
GT5
As a Standard car, the Audi RS 6 Avant '02 can be purchased from the Used Car Dealership for 104,980 Credits. It is a Level 8 car.
GT6
This car can be purchased for 117,060 Credits. It has a simple interior.
Notes
↑

Unnecessary capitalization of "quattro" in the game.

↑

As with every other reference to torque in the game, the measurement for torque is misordered as "ft-lb".
Community content is available under
CC-BY-SA
unless otherwise noted.