The BMW 120i '04 is a Road car produced by BMW. It appears in Gran Turismo 4, Gran Turismo PSP, Gran Turismo 5 and Gran Turismo 6.
Colors
Eleven colors are available for this car:
Quarzblau
Titansilber Metallic
Alpinweiß
Sydneyblau
Sparkling Graphite Metallic
Nautikblau
Saphirschwarz Metallic
Schwarz
Sonora
Havanna
Japanrot
In-game description
"An alluring car that provides both luxury and high performance in a compact class."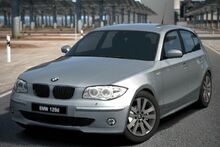 BMW unveiled the new 1 Series at the 2004 Paris Motor Show, signaling its arrival in the compact-sedan game. The 1 Series would become its new entry-level car, bullying its way into a crowded market that included Volkswagen's Golf. But the new BMW wasn't that small, measuring 166.4 inches from bumper to bumper and 68.9 inches wide. The car's most controversial aspect was its styling, characterized by its somewhat odd proportions.
What separated the 1 Series from the rest of the products in its segment was its drivetrain. When FF (Front-engine, front-drive) was the norm, the 1 series featured rear-wheel drive. This immediately gave the car a more upscale character than its competition. It also helped the car possess sports car-like handling. Also assisting in this department was the fine-tuned suspension system and rock-solid body structure. The rack-and-pinion steering system was arguably the most precise in its segment.
Several engine variations were available, but the popular choice was the 120i's Valvetronic-equipped 2.0-liter DOHC inline-4 used in the E48 318i. It produced 148 BHP and 147.5 lb-ft of torque and came mated to either a 6-speed automatic or 6-speed manual gearbox. The highest performance 1 Series, the 120d, came equipped with a 2.0-liter turbo diesel that pumped out 161 HP and an asphalt-crinkling 250.9 lb-ft of torque.
Acquisition
GT4
This car can be purchased at the BMW New Cars Dealership for 31,940 Credits.
GTPSP
This car can be purchased for 31,940 Credits.
GT5
As a Standard car, the BMW 120i '04 can be purchased from the Used Car Dealership for 29,114 Credits. It is a Level 0 car.
GT6
This car can be purchased for 31,940 Credits. It is a simplified car.
Notes
Community content is available under
CC-BY-SA
unless otherwise noted.