BMW M3 '04
Appears in
Gran Turismo 4
Gran Turismo PSP
Gran Turismo 5
Gran Turismo 6
Type in GT5
Standard
Interior in GT6
Simple
Manufacturer
BMW
Drivetrain

FR

Engine
BMW S54
Max Power
339 BHP
Performance Points
470 PP
Max Torque
269 lb-ft@4900rpm
0-60 Mph
4.5 Seconds
Top Speed
196 miles per hour (315 km/h)
Weight
1,570 kilograms (3,500 lb)
Power/Weight Ratio
4.58 kg (10.1 lb) per horsepower
The BMW M3 '04 is a Road car produced by BMW. It appears in Gran Turismo 4, Gran Turismo PSP, Gran Turismo 5, and Gran Turismo 6.
Ten colors are available for this car:
Phoenixgelb Metallic
Alpinweiß
Titansilber Metallic
Silbergrau Metallic
Mysticblau Metallic
Lagunaseca Blau
Oxfordgrün Metallic
Carbonschwarz Metallic
Schwarz
Imolarot
In-game description
Edit
"The pinnacle of the type E46 3 series; coupling raw muscle with refinement."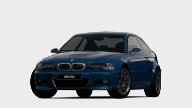 In 2000, BMW redefined its super sports coupe, the M3 by placing a 3.2-liter DOHC inline-6 under its hood. Based on the E46 3 Series that underwent a full model change in 1998, the new M3 pumped out a fierce 338 HP at 7900 rpm and a hearty 269.0 lb-ft of torque at 4900. This meant that this amazing machine achieved more than 99 HP per liter when the six cylinder spun to its 7900-rpm redline. What really brought the motor to life was the M3's new gearbox. Initially, it came equipped with a Getrag 6-speed manual, but later BMW added the SMG II, the company's prize two-pedal (twin clutch) semi automatic transmission.
In developing the new M3's chassis, BMW followed it credo of "the suspension must always be faster than the engine". BMW engineers took the base E46 chassis and solidified each section, giving the car rock-solid stableness throughout. The suspension was returned to compensate for the M3's added power.
In 2003, a lightweight version of this coupe was introduced. It boasted even more performance than the base car, thanks mainly to a leaner and more powerful build. The M3CSL tipped the scales at 1400 kg, about 100 kg less than the base car with the inline-6 pumping out 355 HP at 7900 rpm and 273.4 lb-ft of torque at 4900.
Acquisition
Edit
This car can be bought at the BMW New Cars Dealership for 74,560 Credits.
This car can be purchased for 74,560 Credits.
As a Standard car, the BMW M3 '04 can be purchased from the Used Car Dealership for 66,917 Credits. It is a Level 7 car.
This car can be purchased for 74,560 Credits. It is a simplified car.
Community content is available under
CC-BY-SA
unless otherwise noted.