GTA: The Criminal Enterprises - The Loop
Play Sound
Every Gran Turismo game features a car category system (also known as car class) to separate one type of cars from another for purposes of racing.
General
[
]
In general, cars can be classified into four types by the games based on their genre:
Road: Road-legal production cars; also known as Normal in some games.
Racing: Racing cars designed for a racing competition.
Tuned: Cars tuned by a factory or aftermarket tuning house, including SEMA GT Awards winners. Drift cars (such as Blitz Dunlop ER34 '07 are usually treated as tuned cars by the games instead of racing ones. In PlayStation era games, these cars are treated as road cars. These cars are tagged as Professionally Tuned in GT7.
Concept: Cars designed to showcase new technologies and/or designs, such as Vision Gran Turismo cars. Only GT4 treats concept cars as it's own class; later games treated concept cars as either road or racing cars depending on the car's intended goal. (GT7 treats a concept car as both concept and road/race car depending on the car's intent.)
Some events in the games (such as the Hard-Tuned Car Speed Contest in GT1) requires the player to use a road car; confusingly, in the PAL version of GT4 (when set to British English), the requirement is stated as "Unmodified cars only". The issue where the player cannot enter, but the AI can use, both the Cadillac CIEN Concept '02 and Volkswagen W12 Nardo Concept '01 in that game's Supercar Festival as the event required the player to use a production road car, may be the reason later games after GT4 stopped treating concept cars as such, instead treating them as road or racing (for racing concept) cars. In GT3, the Formula GT event requires the player to use a race car.
The classification system is also used in Tourist Trophy, except road-going motorcycles are referred as Street bikes by the game. In that game, a motorcycle's displacement also affects the bike's performance classification.
GT1-3 Arcade Mode
[
]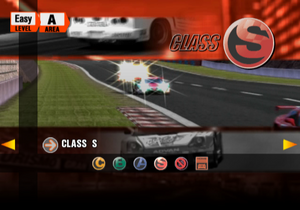 In the Arcade Modes of the first three games, cars are divided into four (three in GT1) classes based on performance: C, B, and A, plus S in GT2 and GT3. Lower performing cars are located in Class C, middle class cars are placed in Class B, higher performing ones in Class A, and top-of-the-line cars in Class S (in GT3, Class S contains racing cars instead). In GT2 and GT3 (although not explicitly in the latter), the game also assigns these class for garage cars for purposes of opponent matching, but it is unknown what factors determine how a car is assigned which performance class.
In GT1, opponents for Spot Races are all based on Arcade Mode classes:
Because of this, it is possible to have the Chevrolet Corvette Stingray (C2) '67 and Mazda Roadster 1.8 RS (NB) '98 appear as opponents in Spot Races; both are otherwise only playable in Arcade Mode.
Under this system, both game's built-in rally cars are treated as it's own "class" in GT2's and GT3's Arcade Mode, but they are only playable in dirt courses.
GT Sport and GT7
[
]
Car classes in Gran Turismo Sport and Gran Turismo 7 are divided as follows:
Group N (Gr.N, GT Sport only), for road legal vehicles, as well as some concept cars designed to be road cars (such as the Toyota S-FR '15 and Mazda RX500 '70) and aftermarket tuned cars (such as RE Amemiya FD3S RX-7 and SEMA Gran Turismo Awards winners). The class is divided into 10, each based on their horsepower in PS (metric horsepower as used in the Japanese version of the game and internally); the class changes for every 50 metric horsepower beginning from 150 PS, as described below (this means that other factors, such as weight, are not factored in). In online races (both Sport Mode and lobby races), N-class restrictions requires the car to have an horsepower rating within the range for that class, not less or more; entering a car outside the car's "home" category subjects it to different BoP ratings if BoP is enabled. The N class system itself predated GT Sport, having been used in the Gran Turismo 4 Online test program (in which the system is also used for race cars, the latter with R prefix), and is named after the FIA Group N regulations for production-based racing classes.

As of GT Sport version 1.66, there are no N900 class car(s); the class is only available by altering the power ratio of existing cars in other classes. There have also no new N1000 cars added to the game, apart from those available at launch.
Although present in the first trailer for Gran Turismo 7 during the PlayStation 5 launch event, the Gr.N class system appears to have been dropped from the game according to the 2021 PlayStation Showcase trailer, although the racing car classes is scheduled to remain.
| Class | Lower Limit | Upper Limit |
| --- | --- | --- |
| N100 | N/A | 150 PS (148 hp; 110 kW) |
| N200 | 151 PS (149 hp; 111 kW) | 250 PS (247 hp; 184 kW) |
| N300 | 251 PS (248 hp; 185 kW) | 350 PS (345 hp; 257 kW) |
| N400 | 351 PS (346 hp; 258 kW) | 450 PS (444 hp; 331 kW) |
| N500 | 451 PS (445 hp; 332 kW) | 550 PS (542 hp; 405 kW) |
| N600 | 551 PS (543 hp; 405 kW) | 650 PS (641 hp; 478 kW) |
| N700 | 651 PS (642 hp; 479 kW) | 750 PS (740 hp; 552 kW) |
| N800 | 751 PS (741 hp; 552 kW) | 850 PS (838 hp; 625 kW) |
| N900 | 851 PS (839 hp; 626 kW) | 950 PS (937 hp; 699 kW) |
| N1000 | 951 PS (938 hp; 699 kW) | Infinite |
The inclusion of kW values in the table above are due to conversion template restrictions on regrading units of power. GT Sport and GT7 only uses PS (in the Japanese version/language only) and HP as units of power within the games.
Group 4 (Gr.4), for lightly modified racing cars, with basic safety equipment and weight reductions. Intended to be based on the FIA/SRO GT4 class, the class also features lightly modified cars for showroom production-based racing series (such as the Japanese Super Taikyu series) such as the four-wheel drive Subaru WRX Gr.4 and one-make cup racing cars such as the Audi TT Cup '16 (which received an official SRO GT4 BoP test in real life)[1] and the Peugeot RCZ Gr.4 (based on the RCZ Cup cars). A majority of the cars in the class are designed by Polyphony Digital or the manufacturer's design team (in case of GT by Citroën Gr.4), in absence of some of manufacturer's actual GT4 or production-based race car; only the Porsche Cayman GT4 Clubsport '16 is a real-life GT4 class car in the category (as of GT Sport version 1.62; this excludes the Toyota GR Supra (Nürburgring '19 Livery), which while based on the real-life GR Supra GT4 car, has the cockpit of the road car and is only available by completing a survey).

While the real-life GT4 class only allows rear-wheel drive vehicles, the production/showroom oriented nature of the class is intensified by inclusion of front and four-wheel drive cars. Additionally, the silhouette Renault Sport Mégane Trophy '11 is also included in this class, likely due to it's status as a one-make cup car and it's power and weight ratings being within Gr.4 territory; nonetheless, the inclusion of the car (as well as front and four wheel drive cars in the class) has been very controversial within the community.
Some cars, such as the Nissan GT-R Gr.4 and the Bugatti Veyron Gr.4, feature heavily detuned engines to keep the class balanced. The Honda NSX Gr.4 is an extreme example, with the hybrid system completely removed.
Group 3 (Gr.3), for top-flight grand touring racing cars, which are based on production sports cars. Primarily a class based on the FIA GT3 class (such as Nissan GT-R NISMO GT3 N24 Schulze Motorsport '13 and McLaren 650S GT3 '15, the class also features cars based on other high-level GT class, such as WEC/Le Mans GTE class (such as the Porsche 911 RSR (991) '17), the FIA GT2 class (the BMW M3 GT (BMW Motorsport) '11) and GT1 class (the McLaren F1 GTR - BMW (Kokusai Kaihatsu UK Racing) '95, based on the 90s/BPR GT1 regulations before the class was dominated by prototype homologation specials, and the Aston Martin DBR9 GT1 '10, based on the late 2000s iteration of the class). Some cars in this class are also specifically designed for the game in absence of their actual GT car, either by Polyphony Digital or the manufacturer's design team (in case of Volkswagen Beetle Gr.3). In Gran Turismo 7, the class also started to include early GT500-class JGTC cars before the shift in regulations to match silhouette touring cars, an example being the Toyota Castrol TOM'S SUPRA '97, as well as modern-era GT300 cars that competed against GT3 cars, such as the Subaru BRZ GT300 '21, and Group 5/Super Silhouette race cars, such as Nissan Skyline Super Silhouette Group 5 '84.
Group 2 (Gr.2), a class for silhouette racing cars (such as Super GT's GT500 cars) that "represent the highest peak of the touring car category". This class was introduced in GT Sport version 1.15, with addition of the first three cars in the class. In GT7, the class started to include longtail/homologation special GT1 cars from the late 90s, such as the AMG Mercedes CLK-LM '98.
Group B (Gr.B), a class for highly modified, high output (over 500 horsepower) rally cars. Named after the legendary rally car class of the 80s, all cars in this class are four-wheel drive by nature, and are all designed by Polyphony Digital, with exception of the Audi Sport quattro S1 Pikes Peak '87, ironically based on the Pikes Peak version of the car rather than the Group B WRC version of the car. On these cars, torque split can be adjusted on the multi-function display during races. Besides most of the original designed rally cars being a reimagining of what Group B cars would look like in the modern day, they are more in line with rallycross vehicles from either the FIA World Rallycross Championship or the Red Bull Global Rallycross.

On April 16, 2018, the class information for Daily Race B accidentally had the class set to "Gr.A", a class that is not yet used by any cars in the game; as a result, players were unable to enter the race until the issue was solved, as there are no cars registered under the class. While it is not clear what purpose the class would have been (it is possible it would be a rally car class, given the naming pattern), it was immediately fixed to be a Gr.4 race.[2]
As of GT Sport version 1.66, there have been no new Gr.B cars added to the game, apart from those available at launch.
Group X (Gr.X, GT Sport only), a class for cars that do not belong in any of the above classes above. Group X races are always restricted to a one-make race in Arcade Mode races, including in Custom Race mode. In GT League, some Gr.X road cars can be used in events that are normally intended for N-class cars. Cars in Group X include:
The car category system above, as a whole, replaces the Performance Points system from the PlayStation 3-era games, with both system set to be used together in Gran Turismo 7 (only for race cars, as of the 2021 PlayStation Showcase trailer; the trailer shows that the N-classes and Gr.X were abolished altogether).
References
[
]
External links
[
]