The Chevrolet Corvette Z06 (C5) '00 is a Road car produced by Chevrolet. It appears in every main Gran Turismo game to date since Gran Turismo 3: A-Spec, with the exception of Gran Turismo Sport.
Colors
The player can choose five colors upon buying this car:
Millenium Yellow
Torch Red
Quicksilver Metallic[1]
Speedway White
Black
In-game description
"The 5th generation Corvette that evolved into a fully-equipped, high-performance car."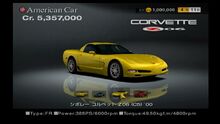 After enthralling American sports-car enthusiasts with the original C5 open-air Corvette, Chevrolet decided to add a hardtop version to the mix in 1998.
This car was a purer performance car, as it made full use of the greater body rigidity supplied by the fixed roof. Included in the Z51 handling package was the fixed roof and a manual transmission, which made the Corvette's performance on par with European exotics costing thousands more. Even more impressive was the fact that this new hardtop was priced lower than a standard Corvette.
The car proved so popular that, in 2001, a new 380 HP LS6 V8 - an improved version of the LS1 - was dropped into the engine bay. The car was designated as the Z06, named after the race package option code for the C2 Corvette.
The new Z06 also received a titanium exhaust system (very unusual at the time for a production car), a more aggressive wheel alignment, and numerous reinforced suspension components. It came with a manual transmission only. As the years passed, the Z06 became meaner and meaner with engine output upped to 399 HP in 2002 and 405 HP for 2004. Achieving 394 HP in a normally-aspirated small-block V-8 was unprecedented, and it made this relatively high-volume Corvette one of the fastest production cars in the world, putting America back on the world sports-car map.
Acquisition
GT3
This car can be bought at the Chevrolet dealership for 54,000 Credits.
GT Concept
This car is available to the player in Arcade Mode from the beginning.
GT4
This car can be bought at the Chevrolet New Cars Dealership for 53,570 Credits.
GTPSP
This car can be purchased for 53,570 Credits.
GT5
As a Standard car, the Chevrolet Corvette Z06 (C5) '01 can be purchased from the Used Car Dealership for 44,932 Credits. It is a Level 9 car.
GT6
This car can be purchased for 53,570 Credits. It is a simplified car.
Trivia
In Gran Turismo Sport, a photo of this car can be seen in Chevrolet's Museum in Brand Central. However, the car itself does not appear as a playable vehicle in said game.
Notes
↑

Named "Quick Silver" in GT3 and GT Concept
Community content is available under
CC-BY-SA
unless otherwise noted.