Our community
needs more
information on this page! Can you help out?
Click here to add more.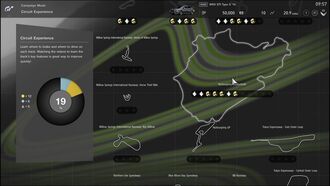 The Circuit Experience game mode is the place to learn the best way to drive certain tracks. It can be accessed by selecting "Campaign" -> "Circuit Experience" from the Main Screen. Maps of the game's tracks will be displayed. Scroll through them, and select the track to practice on. All track maps are drawn to the same scale.
A series of black dots will appear next to each track map. These indicate the awards won at this track. Each track is divided into sectors according to the length and difficulty of the track. Awards can be won for achieving fast times in each sector, as well as for the track as a whole. Awards won will be displayed in the black band next to each track map. If every available award for a track is won, the player will receive badges. These are displayed on the left side of the screen. Prizes are assigned for clearing all the tests of a track. Getting all bronze and silver medals will reward the player with bronze and silver versions of the track's map as decals in the Livery Editor, while a prize car is awarded for getting all gold medals.
Circuit Experience challenges are done with Gr.4 or Gr.3 cars only, with exception of dirt tracks which use Gr.B cars, and Circuit de la Sarthe which uses the Porsche 919 Hybrid (Porsche Team) '16, a Gr.1 car.
For newly added tracks, the track's Circuit Experience is typically added on the content update following the track's addition. This pattern was broken by the WeatherTech Raceway Laguna Seca's Circuit Experience, which was added immediately following the track's inclusion.
List of Challenges
Edit
For number of sections, the number includes the final 1 Lap Attack challenge.
Community content is available under
CC-BY-SA
unless otherwise noted.