The Daihatsu MOVE CX '95 is a Road car produced by Daihatsu. It first appears in Gran Turismo 2 and has returned in every main game since, except Gran Turismo 3: A-Spec and Gran Turismo Sport.
Seven colors are available for this car:
 

Puro White

 

Silver Stone Metallic

 

Black Metallic

 

Maple Red Mica M / Warm Silver Mica M

 

Royal Blue Mica Metallic[1]

 

Royal Blue Mica M / Warm Silver Mica M[1]

 

Green Mica Metallic[2]
In-game description
Edit
"The mainstream model of the first Move that started the trend for tall K Wagons."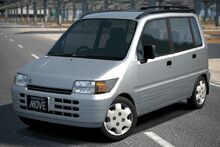 Daihatsu created the Move to do one thing: to topple Suzuki's Wagon R from the K-car pedestal. Because Daihatsu introduced the Move at the height of the Wagon R's popularity, the company needed to show the Japanese public that the Move was more special. One way of doing this was giving the Move four doors from the outset (the first-generation Wagon R came as a 3-door with no driver's side rear door). Another added plus was allowing the rear hatch to open and close sideways so it can function in tight spaces, as opposed to the door swinging up like in the Wagon R.
The base Move came with a 51 HP inline-3, while the next grade up got a 54 HP fuel-injected three cylinder. The top-of-the-line version, the CR, came powered by a 63 HP turbocharged DOHC inline-4 mated to a 5-speed manual transmission or 4-speed automatic. The CR came as an FF (Front engine, Front drive) or F/AWD (Front engine/All Wheel Drive).
Suzuki countered the Move in 1997 by spicing up the Wagon R. Daihatsu, in turn, countered with the Move+, a radical version of the Move, with a flashy oversized front grille and "Aerodown Custom" look that included a lowered body. The Move+ was such a hit with the young crowd that Suzuki released a similar trim level with the Wagon R not much later.
Acquisition
Edit
This car can be bought at the Daihatsu Used Cars dealership for around 7,500 Credits.
The player can find and purchase this car at the Used Car Showroom (Early '90s) for around 3,700 Credits. The exact price of the car may vary depending on the mileage.
This car can be purchased for 10,690 Credits.
As a Standard car, the Daihatsu MOVE CX '95 can be purchased from the Used Car Dealership for 7,536 Credits. It is a Level 0 car.
This car can be purchased for 10,690 Credits. It has a simple interior.
↑

GT4 and onwards
Community content is available under
CC-BY-SA
unless otherwise noted.