Dodge Viper GTS '02
Appears in
Gran Turismo 5 Prologue
Gran Turismo 5
Gran Turismo 6
Gran Turismo Sport (Update)
Type in GT5
Premium
Interior in GT6
Detailed
Manufacturer
Dodge
Displacement
7996 cc
Drivetrain

FR

Engine
Viper V10 8.0
Max Power
448 BHP
Performance Points
516 PP
Top Speed
185 miles per hour (298 km/h)
Length
4,488 millimetres (176.7 in)
Width
1,923 millimetres (75.7 in)
Height
1,219 millimetres (48.0 in)
Weight
1,569 kilograms (3,460 lb)
Power/Weight Ratio
3.61 kg (8.0 lb) per horsepower
The Dodge Viper GTS '02 is a Road car produced by Dodge. It appears in Gran Turismo 5 Prologue, Gran Turismo 5 and Gran Turismo 6. It is also available in Gran Turismo Sport, where it was added as part of Update 1.11, released on January 26, 2018.
There are six colors to choose from this car:
Viper Race Yellow/Black Stripes
Viper Race Yellow
Viper Red/White Stripes
Viper Red
Graphite Grey Metallic/White Metallic Stripes
Graphite Gray Metallic
In-game description
Edit
"With its mostrous levels of power and grip, this venerable machine could arguably be called America's first supercar."
Dodge introduced the Viper concept car in 1989 to an awe-struck public to show that Chrysler was capable of producing something that could dethrone the Chevrolet Corvette as America's sports car. America's supercar war officially began in 1992, when Dodge released the 2-seater convertible to the public.
The Viper was as raw as sports cars came, with a loud, powerful engine and wide, menacing body that reminded many of the Shelby Cobra. For some the car was too over-the-top, and Dodge, hearing these comments, produced a fixed-roof version of the Viper, called the GTS, in 1996. At the same time, a race version of the GTS was also introduced, called the GTS-R. The GTS-R was created to contest the 24 Hours of Le Mans and the 24 Hours of Nurburgring.
The GTS didn't only get a fixed roof, but also received more power. The massive V10 under its long hood now produced 450 HP, as opposed to the 400 in the RT/10 roadster, which made the car quicker off the line.
The aerodynamic shape created by the fixed roof accounted for a better top speed, one that eclipsed the RT/10's top speed of 165 mph (266 km/h) to a new maximum of 185 mph (298 km/h). The GTS's handling was also sharper, thanks to the car's added structural rigidity. The FR (Front-engine, Rear-drive) supercar set record-breaking slalom and skidpad records, thanks in part to its meaty tires.
The original Viper was a nostalgic and pure sports car, but the attractive fixed-roof version, the GTS, catapulted the Dodge brand to supercar status.
Acquisition
Edit
This car can be purchased at the Dodge dealership for 90,400 Credits.
As a Premium car, the Dodge Viper GTS '02 can be purchased from the Dealerships for 90,400 Credits. It is a Level 10 car.
This car can be purchased for 90,400 Credits. It has a detailed interior. The car's name is listed as SRT Viper GTS '02 in this game.
This car can be purchased in the Dodge section of Brand Central for 90,500 Credits.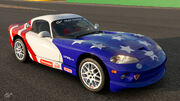 Community content is available under
CC-BY-SA
unless otherwise noted.