Formula GT (GT3)
League Level
Professional
License Level
Super
Series Type
Championship
No. of Races
10
Total Distance
1,494.25 km (928.48 mi)
Tyre Restriction
No restrictions
Tyre Wear
Yes
Car Type Restriction
Race Cars Only
1st Place Prize
30,000 Cr
Championship Bonus
250,000 Cr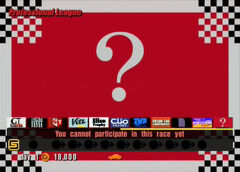 The Formula GT Championship, in the Professional league of Gran Turismo 3: A-Spec, is a championship designed to replicate the FIA Formula One World Championship. It consists of a series of races involving the Polyphony001 and Polyphony002 race cars (PAL Version)/F686/M, F687/S, F688/S, F094/H, F094/S and F090/S (NTSC Version).
Unlike the other events in this game, this race will initially appear as locked, with a white question mark icon on a plain red background. Once the S-License is obtained, the event will be unlocked. It is the final and most grueling championship in GT3, with each race taking 30-35 minutes to complete, and driving a distance of ~1,500 kilometres.
The race order in the series are as follows:
Prize Structure
Edit
Prize Money
Edit
1st: Cr. 30,000
2nd: Cr. 8,500
3rd: Cr. 7,000
4th: Cr. 5,500
5th: Cr. 2,500
6th: Cr. 1,000
Overall Champion: Cr. 250,000
Prize Cars
Edit
PAL Version
Edit
NTSC Versions
Edit
Several circuits in the championship replicate real-life Formula 1 races, such as:
Mid-Field Raceway (replicates the Japanese Grand Prix, held at Suzuka, but with almost half the number of laps (the Mid-Field GP is 30 laps long, while the real-life Japanese GP is 53 laps long))
Grand Valley Speedway (replicates European Grands Prix that were held at the Nürburgring Grand Prix Circuit, as both tracks are tight, technical and require high concentration)
Apricot Hill Raceway (replicates past French Grands Prix that were held at Dijon-Prenois circuit, which has a similar layout to Apricot Hill)
Cote d'Azur (exactly replicates the Monaco Grand Prix, as both the real-life Monaco GP and the Cote d'Azur GP are 78 laps long)
Some other locations replicate real-life IndyCar races, such as:
Seattle Circuit, Rome Circuit, Tokyo R246 (replicates the many street circuits used during an IndyCar championship)
Super Speedway (replicates previous IndyCar races held at the Twin Ring Motegi Speedway)
Test Course (replicates the Indianapolis 500, but much longer (almost 2.5x the length) and higher banking like a NASCAR oval)
Laguna Seca (replicates previous IndyCar races held at the Laguna Seca Raceway)
Community content is available under
CC-BY-SA
unless otherwise noted.