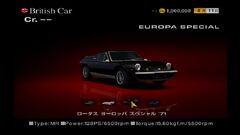 In 1966, Lotus developed a small sports car that used the main components of the Renault 16, aiming for exportation to the European continent, with focus on France. The name of that car was the "Europa".
The plastic body covering a FRP reinforced steel backbone frame was the same as other Lotus sports cars of the past, but it was the engine layout that was new. The Europa's engine was a mid-ship, set vertically in front of the rear axle shaft. This was because the Europa had been made as a lightweight sports car, to take over for the Seven. It was Lotus' first non-racing mid-ship.
The engine was a 1470 cc, water-cooled OHV inline 4 from a Renault 16 that was tuned by Lotus and initially it produced 81 BHP. A 79 BHP/1565 cc spec model with increased displacement volume was produced for sale in the US.
In 1971, the engine was made into a twin cam with a cylinder head manufactured by Lotus and the power was enhanced to 104 BHP. This model - which was literally called the "Twin Cam" - was also designed for improved interior comfort, replacing the previously detachable side windows with power windows. To secure the driver's rearward field of vision, the height of the rear engine trunk was also lowered.
Also, the "Special" model with output improved to 126 BHP using large valves, appeared in 1972. Sports car fans all over the world supported the Special as the most high performance Europa. 9230 Europas were produced up through 1975 and some circulated the international sports car racing as 47GTs.