watch 02:05
Wiki Targeted (Games)
Play Sound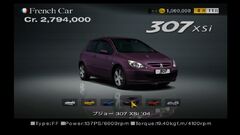 One class above the 206 series, Peugeot unveiled the Peugeot 307 as their European C-segment challenger in 2001. The Peugeot 307 would go up against veteran rivals like the VW Golf and Opel Astra. The expansion and growth of the C segment during its time was actually initiated by the 307.

At the time of its debut, the 307 had undergone a drastic size increase from the previous 306 series in order to exceed the capabilities of the Golf and Astra. You can tell that the 307 was ahead of its time; when the Golf V was released in 2004, its body had also grown close in size to the 307. At the same time, Peugeot had improved interior and exterior quality as well as driving performance of the 307, making huge leaps beyond their previous generation model.
Because the 307 was meant to be a supporting high volume seller, Peugeot offered many variations of the vehicle. First was the hot hatch XSi followed by the premium grade XS, the mono-form SW estate and the new coupe cabriolet CC. There was also a wide array of available engines that included a 1.4L, 1.6L, 2L, and even diesel models. The 2L and 1.6L models were imported to Japan. The powerful 2L straight-4 DOHC produced 135 BHP and 19.4 kgfm while the 1.6L managed 107 BHP and 15.0 kgfm. The standard transmission was a 5-speed MT, but the Japanese market favoured the 4-speed AT combination.
The latest 307 CC model made use of the same techniques found in the 4-seater retractable hard top 206 CC, but unlike the 206 CC, the 307 seated 4 comfortably. It is also very interesting to note that the 307 CC was chosen as the base for the WR rally car in the WRC.