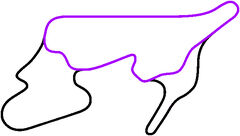 Grand Valley East is a fictional course that appears in all Gran Turismo games to date, except Gran Turismo 3: A-Spec and Gran Turismo Sport.
Overview
[
]
Similar to its full version, Grand Valley East consists of sweeping hairpins, undulating corners, and slight elevation changes throughout. About 35% shorter than the full Speedway, this variation omits the large crested s-bends, the tight hairpin, the bridge and tunnel section, and the final chicane. Nimbler, lighter sports cars will thrive here over heavy grand tourers and high-horsepower supercars.
GT4 Race Beginning Classification
[
]
The race begins with all six cars stationary. Therefore qualifying is not so important for this track.
Events Featuring Grand Valley East
[
]
Events marked with an asterisk are raced in reverse.
GT1
[
]
GT League
Special Events
GT2
[
]
Special Events
[
]
GT4
[
]
Beginner League
One-Make Races
GT5
[
]
Beginner Series
GT6
[
]
Novice League
Red Bull X Challenge
Trivia
[
]