Roblox: DeepWoken - The Loop
Play Sound
The Honda CR-X SiR '90 is a road car produced by Honda. It appears in every main Gran Turismo game to date except Gran Turismo 3: A-Spec and Gran Turismo Sport.
Colors
[
]
Originally, four colors were available for this vehicle:
 

Flint Black Metallic

 

Torino Red Pearl

 

Frost White

 

Barcelona Green Pearl
After the release of GT4, they were replaced with four different colors:
 

Pewter Gray Metallic

 

Blade Silver Metallic

 

New Polar White

 

Wien Blue Pearl
In-game description
[
]
"Sharp driving performance and even sharper looks. The top grade model given the VTEC engine."


In September of 1987 the Civic series underwent its third full model change. The 4th edition lineup featured a 3-door hatchback, 4-door saloon, 5-door shuttle and this 4th model, called the CR-X. The CR-X name was derived from "CReate" and "X", standing for the future.
In order to strengthen its ties to its siblings, the appearance of the front mask was made similar to that of the Civic. However there were many features exclusive to the CR-X, such as the favourable aerodynamic Cd value of 0.3, the effective low and wide wedge form, as well as the canopy-style glass top that gave the driver an overwhelmingly open feel and visibility. It was said to give the driver a 310 degree field of view.
In September of 1990, a new 1.6L, straight-4 DOHC VTEC engine was released as Honda's new sports engine. This unit had already been favourably included in the Integra and the most defining characteristic was Honda's proprietary variable valve timing and lift mechanism, the VTEC had the ability to change the amount of valve lift and opening timing at low and high rpm, which made it easy to drive but provided a surprising amount of peak power. The CR-X equipped with this groundbreaking sports engine was the SiR.
With a maximum output of 158 BHP, equal to 99 BHP per litre, calling this a racing engine would not be an exaggeration. In order to handle this power, tire size was increased to 195/60R14 and it was also equipped with special large disc brakes, and an LSD with viscous coupling was provided as an option. Driving it was thrilling, and on winding roads it could not be beaten by cars even with bigger engines.
Acquisition
[
]
GT1
[
]
This car can be bought at the Honda Used Cars Dealership for around 5,700 Credits. A special colored variant of this car is also available as the prize for winning the FF Challenge. The special colored variant has a chance of 1/2 (50% probability) to be won as a prize car.
GT2
[
]
This car can be bought at the Honda Used Cars Dealership for around 5,900 Credits. It appears as the Honda CR-X 1.6 VTEC '91 in the PAL version of the game, and as the Honda CIVIC CR-X Si '90 in the NTSC-U version.
GT4
[
]
This car can be bought at the Used Car Showroom (Early '90s) for around 5,500 Credits. The exact price of the car may vary depending on the mileage.
GTPSP
[
]
This car can be purchased for 15,470 Credits.
GT5
[
]
As a Standard car, the Honda CR-X SiR '90 can be purchased from the Used Car Dealership for around 12,206 Credits. It is a Level 0 car.
GT6
[
]
This car can be purchased for 15,470 Credits. It has a simple interior.
Pictures
[
]
Trivia
[
]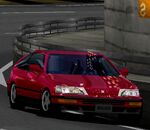 In GT2, the car's night texture has missing transparency in the headlights texture area, resulting in white boxes appearing around the headlights at night courses.
Notes
[
]