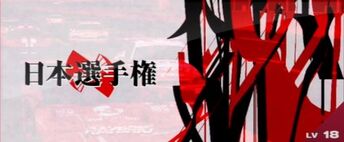 The Japanese Championship (japanese: 日本選手権 (Nihon-senshuken)) is an Expert Series championship event available at Level 18.
In Game Text
Edit
"A five-race championship event exclusively for Japanese cars held on a series of technically challenging tracks."
Entry Requirements
Edit
Typical Opponents
Edit
Prize Structure
Edit
Prize Money
Edit
Overall Champion: Cr. 160,000
1st: Cr. 32,000
2nd: Cr. 23,100
3rd: Cr. 20,400
4th: Cr. 19,200
5th: Cr. 18,700
6th: Cr. 18,300
Prize Cars
Edit
A-Spec:
B-Spec:
Community content is available under
CC-BY-SA
unless otherwise noted.