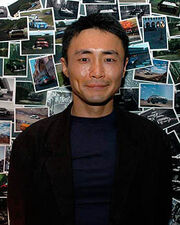 Kazunori Yamauchi (山内一典, Yamauchi Kazunori, born August 5, 1967) is a Japanese game designer who is the CEO of Polyphony Digital and creator and producer of the Gran Turismo series. He became the president of Polyphony Digital after creating his first game called Motor Toon Grand Prix , a cartoon racing game that was completely original and had a colorful, unique, and in every sense, "cartoony" feel. Since then, Yamauchi has fulfilled his dream of creating excellent car games with his massively successful Gran Turismo series. For his help with promoting Volkswagen (VW) models in the series, VW gave him a Golf R32 as a gift.
He recently helped design the technology for Nissan's new GT-R Sports car which appears in the latest game in his franchise, Gran Turismo 5 Prologue. He was given a Nissan GT-R (R35) for his contribution.
On a video included with Gran Turismo 5 Prologue, Yamauchi remarked his favorite car design is the Ford GT and he owns two in real life.
Kazunori is also a Professional race car driver. He joined the Gazoo Racing Team on August 29, 2009. He, and the rest of the team, had participated the SP8 class in race 8 with a Lexus IS-F held on the Nürburgring Nordschleife circuit. Yamauchi had a fastest lap time of 10"9, which was the best of the team, and the Gazoo team finished as a class Champion.
Kazunori Yamauchi also was one of 4 drivers in the #96 Spoon Sports FD2 Civic Type-R during the 25 Hours Of Thunerhill which took place Dec. 5-6, 2009. The 25 Hours Of Thunerhill race was his first time driving in a US road course. The car place 7th in it's class, and 23rd position overall.
Community content is available under
CC-BY-SA
unless otherwise noted.