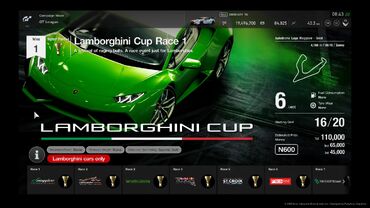 "A festival of raging bulls. A race event just for Lamborghini" - in-game text
The Lamborghini Cup is a 9 race event that appears in Gran Turismo Sport. It was added to GT League mode in update v1.19. The event is housed in the Professional League of GT League mode.
The event is aimed at experienced drivers and is restricted to Lamborghini models. While there are no restrictions regarding the maximum power of the car, the handicap bonus is assigned only if the player enters a car ranked below the N600 class.
Event Restrictions
Maximum Power - None
Minimum Weight - None
Maximum Tyre Rating - Sports: Soft
Lamborghini Cars only
Races
Rival Cars
These are your expected rivals in the event:
Prize Structure
1st: Cr. 110,000
2nd: Cr. 65,000
3rd: Cr. 45,000
Community content is available under
CC-BY-SA
unless otherwise noted.