Lexus RC F GT3 (Emil Frey Racing) '17
Appears in
Gran Turismo Sport (Update)
Manufacturer
Lexus
Displacement
5407 cc
Drivetrain

FR

Max Power
524 BHP
Length
4846 mm
Width
2030 mm
Weight
1,300 kilograms (2,900 lb)
Power/Weight Ratio
2.48 kg (5.5 lb) per horsepower
The Lexus RC F GT3 (Emil Frey Racing) '17 is a Race car produced by Lexus. It first appears in Gran Turismo Sport, where it was introduced as part of Update 1.15.
The car appears to be the #54, driven by Albert Costa and Philipp Frommenwiler, who participated in the Pro class of the 2017 International GT Open season. The car achieved a 3rd place finish in both Driver's and Team's Championships.
In-game description
Lexus had been running a RC F based machine in the VLN series and the Super GT series since 2015, but this was as a specially allowed vehicle with no homologation. They used this experience to move forward with their development, and entered the RC F GT3 prototype in round 9 of the 2016 Fall VLN series. Here they successfully won the SPX class for specially permitted cars.
The prototype was developed with the intent of eventually delivering a GT machine to GT3 race teams around the world, so it was to be controllable for even amateur racers, and provide reliable performance with reinforced components. By changing designs through thorough durability calculations for every component, weight was reduced while securing rigidity. The design of various parts including the front and rear fenders was also changed to further improve aerodynamic performance. The engine is a 5 litre DOHC V8 of the production model tuned to over 532 BHP. This car acquired homologation, and debuted as the Lexus RC F GT3 in 2017.
In the following year of 2017, the car was also provided to Emil Frey Racing of Switzerland, who were a part of the development team for the RC F GT3 machine. Participating in the GT Open Championship of Europe, they won 4 races out of 14, and placed 3rd in the season team rankings.
Acquisition
GT Sport
This car can be purchased in the Lexus section of Brand Central for 450,000 Credits. It can also be obtained by signing a Manufacturer's Series contract with Lexus, which is valid for one Manufacturer's Series season and allows the car to be used in Manufacturer's Series races.
Trivia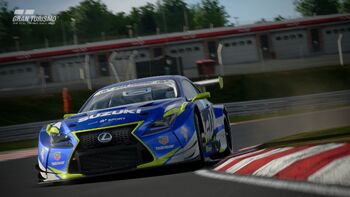 This car was used to represent Suzuki during the Manufacturer's Exhibition race held at 2019 Gran Turismo World Tour in Tokyo (coinciding with 2019 Tokyo Motor Show), as Suzuki does not have a Gr.3 car. The livery the car used in the race is based on Team Suzuki Ecstar MotoGP motorcycles used since 2015.
This was the Manufacturers' Cup-winning car of the 2018 season of the FIA-Certified Gran Turismo Championships.
Notes
Community content is available under
CC-BY-SA
unless otherwise noted.