This page is about the Gran Turismo Sport Event. For other meanings, see MR Challenge.
"A race series for true sportscars with mid-engine layouts." - in-game text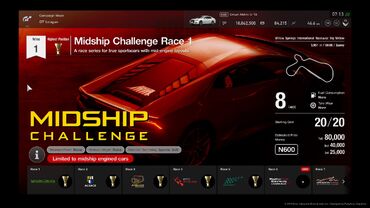 MR Challenge, dubbed as Midship Challenge in the game, is a race event that appears in Gran Turismo Sport. It was added along with the rest of the GT League mode in update v1.10. The event is housed in the Professional League of GT League mode.
The event is aimed at experienced drivers and, unlike previous iterations of the event, any road car with a mid-engine layout (even those listed as 4WD cars, such as the Bugatti Veyron 16.4 '13 and Lamborghini Huracán LP 610-4 '15) are allowed to participate in this event.
Event Restrictions
Edit
Maximum Power - None
Minimum Weight - None
Maximum Tyre Rating - Sports: Soft
Limited to midship engined cars.
Rival Cars
Edit
These are your expected rivals in the event:
| Power (BHP) | Weight (KG) | Car (Name) | Race 1 | Race 2 | Race 3 | Race 4 | Race 5 |
| --- | --- | --- | --- | --- | --- | --- | --- |
| 443 | 1,320 | Alfa Romeo 4C Gr.3 Road Car | Yes | Yes | Yes | Yes | Yes |
| 235 | 950 | Alfa Romeo 4C Launch Edition '14 | Yes | Yes | Yes | Yes | Yes |
| 986 | 1,888 | Bugatti Veyron 16.4 '13 | Yes | Yes | Yes | Yes | Yes |
| 500 | 1,450 | GT by Citroën Road Car | Yes | Yes | Yes | Yes | No |
| 325 | 1,420 | De Tomaso Pantera '71 | No | No | Yes | Yes | Yes |
| 949 | 1,255 | Ferrari LaFerrari '13 | Yes | Yes | Yes | Yes | Yes |
| 658 | 1,255 | Enzo Ferrari '02 | Yes | Yes | Yes | Yes | Yes |
| 563 | 1,485 | Ferrari 458 Italia '09 | Yes | Yes | Yes | Yes | Yes |
| 471 | 1,100 | Ferrari F40 '92 | Yes | Yes | Yes | Yes | Yes |
| 354 | 1,400 | Ferrari 512BB '76 | Yes | No | No | No | No |
| 354 | 1,080 | Ford GT40 Mark I '66 | No | No | No | Yes | No |
| 570 | 1,780 | Honda NSX '17 | Yes | Yes | Yes | Yes | Yes |
| 296 | 790 | KTM X-BOW R '12 | Yes | Yes | Yes | Yes | Yes |
| 739 | 1,450 | Lamborghini Veneno '14 | Yes | Yes | Yes | Yes | Yes |
| 690 | 1,575 | Lamborghini Aventador LP700-4 '11 | No | No | No | No | Yes |
| 601 | 1,442 | Lamborghini Huracán LP 610-4 '15 | Yes | Yes | Yes | Yes | Yes |
| 373 | 1,065 | Lamborghini Countach LP400 '74 | Yes | Yes | Yes | Yes | Yes |
| 600 | 1,350 | McLaren MP4-12C '10 | Yes | Yes | Yes | Yes | Yes |
| 641 | 1,330 | McLaren 650S Coupe '14 | Yes | Yes | Yes | Yes | Yes |
| 468 | 1,400 | Peugeot RCZ Gr.3 Road Car | Yes | Yes | Yes | Yes | Yes |
Prize Structure
Edit
1st: Cr. 80,000
2nd: Cr. 40,000
3rd: Cr. 25,000