Mazda6 Touring Car
Appears in
Gran Turismo Concept
Gran Turismo 4
Gran Turismo PSP
Gran Turismo 5
Gran Turismo 6
Type in GT5
Standard
Interior in GT6
Simple
Manufacturer
Mazda
Displacement
Drivetrain

4WD

Aspiration
NA
Engine
2.0-liter Mazda MZR inline-4
Max Power
295 BHP
Performance Points
480 PP
Max Torque
Top Speed
268 kilometres per hour (167 mph)
Length
4,670 millimetres (184 in)
Width
1,780 millimetres (70 in)
Height
1,435 millimetres (56.5 in)
Weight
1,070 kilograms (2,400 lb)
Power/Weight Ratio
3.63 kg (8.0 lb) per horsepower
The Mazda6 Touring Car (also known in Japan as the Mazda Atenza Touring Car) is a Race car produced by Mazda. It first appears in Gran Turismo Concept, and has appeared in every main game since, with the exception of Gran Turismo Sport.
In-game description
Edit
"1st generation Atenza tuned to N1 regulations. A car for extreme racing."


It may look like a family-friendly sedan, but underneath its skin resides a stealthy beast. Mazda's signature mid-size sedan, the Atenza (Mazda6) first appeared in 2003 in three body configurations: a 4-door, 5 door hatchback and as a station wagon. There was also a touring car grade based on the sedan version that featured a chassis with added rigidity. this Atenza was set up to meet Group N1 regulations, the equivalent of N-Plus-class of the Japanese domestic Super Taikyu endurance racing series that rival Toyota Altezza competed in.
The Atenza's strong suit was its engine. Based on Mazda's 175 HP 2.3-litre DOHC inline-4, the tuned version saw power increased to 295 HP, which peaked at a lofty 9,000 rpm. The 5-speed manual came straight from the stock Atenza.
The base chassis comes from a global platform used by Ford Group brands. The cars suspension consisted of double-wishbones up front and a multi-link at rear with stiffer springs and shocks all around. This improved the car's cornering, giving it a relatively flat turning character.
As you can see, though the stock machine concealed fangs under a veil of comfort and convenience, this Atenza took every component of the stock car and took them to its absolute limit. And the result was one of the meanest compact 4-door known to man.
Acquisition
Edit
GT Concept
Edit
The car can be won after the player gets a gold medal on the Tokyo R246 course license. In the 2001 Tokyo version, the car can be won by getting the gold medal on Midfield Raceway course license.
This car, as the Mazda Mazda6 Touring Car '02, can be won as a prize from the Special Conditions event "Tsukuba Wet Race" (on Medium difficulty). Alternatively, this car can be purchased from the Mazda New Cars Dealership for 450,000 Credits.
The Mazda6 Touring Car can be purchased for 400,000 Credits.
As a Standard car, the Mazda6 Touring Car can be purchased from the Used Car Dealership for 93,106 Credits. It is a Level 11 car.
The Mazda6 Touring Car can be purchased from the Mazda dealership for 95,000 Credits. It is a simplified car.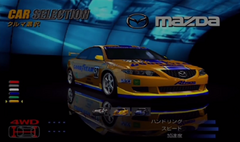 In Gran Turismo Concept: 2001 Tokyo, prior to the car's release in Japan a year later, this car was known as the Atenza LM Edition, and had a choice of 6 different paint schemes, one of which was similar to the one used from 2002 Tokyo-Geneva onwards.
Community content is available under
CC-BY-SA
unless otherwise noted.