Mitsubishi Lancer Evolution V Rally Car '98
Appears in
Gran Turismo 2
Manufacturer
Mitsubishi
Displacement
1997 cc
Drivetrain

4WD

Engine
WR-spec 4G63
Max Power
428 BHP
Length
4350 mm
Width
1770 mm
Height
1415 mm
Weight
1,030 kilograms (2,300 lb)
Power/Weight Ratio
2.41 kg (5.3 lb) per horsepower
The Mitsubishi Lancer Evolution V Rally Car '98 is a Rally car produced by Mitsubishi. This car was used by Tommi Makinen to win the 1998 WRC season Driver's Title to become the third consecutive Driver's Champion in the process, while at the same time winning his first Manufacturer's Title for Team Mitsubishi Ralliart. It only appears in Gran Turismo 2.
Acquisition
Edit
This car can be purchased in the special section of the Mitsubishi dealership for 500,000 Credits. In addition, this car is one of the rally cars that are available from the start in Arcade Mode.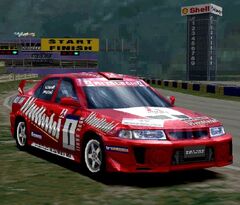 In the game files exists an unused version of this car, with a red colored livery. This car is a version of the Winfield Lancer Evolution V (with cigarette brandings removed) that was used by Tommi Makinen in the 1998 Australia Rally. It was originally planned to be in Gran Turismo 2, but was replaced by the variant used in the other rallies of the 1998 season. The red color scheme still remains in the game files, and can be obtained through cheat devices.

In early versions of GT2, the unused Winfield variation was known as the LANCER Evo.V WRC Winfield and was assigned as road going GSR model's racing modification; the used variant was called LANCER Evo.V WRC Ralliart and was assigned as RS model's racing modification.
Community content is available under
CC-BY-SA
unless otherwise noted.