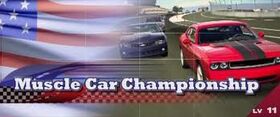 The Muscle Car Championship is a Professional Series Event available at level 11.
Requirements
Edit
Prize Structure
Edit
Prize Money
Edit
1st: Cr. 17,300
2nd: Cr. 12,500
3rd: Cr. 11,000
4th: Cr. 10,400
5th: Cr. 10,100
6th: Cr. 9,900
Prize Cars
Edit
A-Spec
B-Spec
Recommended Cars
Edit
Buick Special '62 - you win it from the Classic Muscle Car Championship and, with a bit of tuning, can thrash all your opponents.
Chevrolet Camaro SS '10 - It's priced reasonably (35,000 Cr), and with some aero parts, can outrun the pack. It'll be even better with Racing Mods, but this is as costly option.