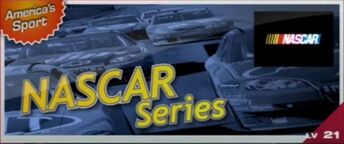 NASCAR Series is an Extreme Series event obtainable at level 21. It requires the use of a NASCAR racecar, which can be either purchased for 500,000 Credits from the Dealership or won by completing all of Jeff Gordon NASCAR School, a Special Event, with gold. The event itself, while fictional, is loosely based on the real-life Sprint Cup Series.
Requirements
Edit
Prize Structure
Edit
Prize Money
Edit
Overall Champion: Cr. 263,000
1st: Cr. 52,600
2nd: Cr. 38,000
3rd: Cr. 33,600
4th: Cr. 31,600
5th: Cr. 30,700
6th: Cr. 30,100
Prize Cars
Edit
Community content is available under
CC-BY-SA
unless otherwise noted.