Subaru WRX Gr.3
Appears in
Gran Turismo Sport
Manufacturer
Subaru
Drivetrain

FR

Max Power
521 BHP
Length
5065 mm
Width
2040 mm
Height
1319 mm
Weight
1,280 kilograms (2,800 lb)
Power/Weight Ratio
2.46 kg (5.4 lb) per horsepower
The Subaru WRX Gr.3 is a race car produced by Subaru, based on the Subaru WRX STi Type S '14. It first appears in Gran Turismo Sport.
Acquisition
Edit
This car can be purchased in the Subaru section of Brand Central for 450,000 Credits. It can also be obtained by signing a Manufacturer's Series contract with Subaru, which is valid for one Manufacturer's Series season and allows the car to be used in Manufacturer's Series races.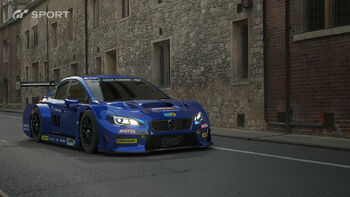 The livery of the car is based on Subaru WRX STI NBR Challenge cars that participate in 24 Hours of Nürburgring, as well as the Subaru BRZ in Super GT's GT300 class, specifically the liveries both cars use since 2015.

In an early screenshot of the game, the car used a plain WR Blue Pearl color with same sponsors. In addition, the car's roof is the same as the rest of the body rather than chrome.
Community content is available under
CC-BY-SA
unless otherwise noted.