New Pokemon Games - The Loop
Play Sound
"A one-make race event with the Dallara SF19 from the Super Formula category, one of the top tiers in Japanese racing."
―In-game text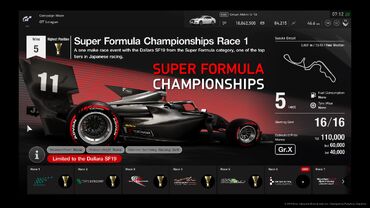 Super Formula Championships is a 7 race event that appears in Gran Turismo Sport. It was added to GT League mode in update v1.36. The event is housed in the Amateur League of GT League mode.
The event is aimed at amateur drivers and is restricted to owners of Dallara SF19 Super Formula models.
Event Restrictions
[
]
Maximum Power - None
Minimum Weight - None
Maximum Tyre Rating - Racing: Soft
Allowed Cars
[
]
Races
[
]
Prize Structure
[
]
1st: Cr. 110,000
2nd: Cr. 60,000
3rd: Cr. 40,000
Trivia
[
]
The liveries that the AI use in this event are mostly based on 2018 Super Formula liveries:

The Autohaus Uwe car is based on the #55 and #56 former Autobacs Racing Team Aguri car.
The Blue+ car is based on the #64 and #65 TCS Nakajima Racing car.
The Blu Strada livery is based on the #15 Team Mugen car.
The Burn livery is based on the #18 carrozerria Team KCMG car.
The Maxwell Battery livery, intending to represent the #50 BMAX car, resembles the livery used by the 2001 Jordan EJ11.
The Mistral livery is based on the #7 UOMO Sunoco Team LeMans car.
The Performax livery is based on the #1 and #2 P.mu Cerumo INGING car.
The Petroheads livery is based on the #36 and #37 Petronas Tom's car used between 2008 (when the series was still named Formula Nippon) to 2015.
The Transurban livery is based on the #5 and #6 DoCoMo Team Dandelion Racing car.
The Zero livery is based on older #31 and #32 Nakajima Racing liveries, when the team was sponsored by PIAA.