Super Speedway

The map of the GT3 version of Super Speedway
Circuit Length
2.406 kilometres (1.495 mi)
Turns (Left/Right)
2 (both left)
Track Type
Original Circuit
Road Type
Tarmac
Appears in
Gran Turismo 2
Gran Turismo 3: A-Spec
Super Speedway is an original track from the Gran Turismo series. It was featured in Gran Turismo 2 and Gran Turismo 3: A-Spec before being replaced by the real-life Twin Ring Motegi Super Speedway (which has fewer stands and no roof for them).
Track Highlights
Edit
First appearing in Gran Turismo 2, the 1.5 mile track is most recognizable by the second, tighter corner being covered like a stadium, and a huge lap time counter on the front straight. A fairly standard oval track; wide, flat road space, bounded entirely by walls, with the second turn being tighter than the first. Changed slightly for Gran Turismo 3: A-Spec, the covered portions over the turn were removed, the pit entry was moved to the back straight, and a host of graphical improvements were made for the more powerful PlayStation 2.
Events in GT2
Edit
Events in GT3
Edit
Beginner League
Edit
Amateur League
Edit
Professional League
Edit
Endurance League
Edit
Replay Demo
Edit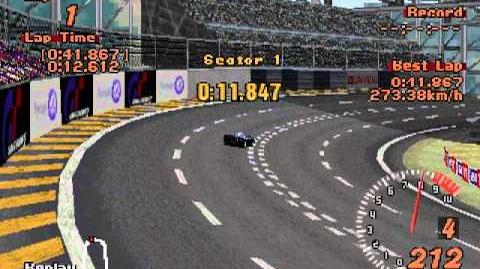 In Gran Turismo 2, there exists an unused reverse version of Super Speedway. Unlike the other tracks in the game, this track has a different starting grid layout (see video). Just like the reverse version of Laguna Seca, there is no AI pathfinding, they will either stand still or drive straight into the first wall and remain there; you can not pit in either. The track also features its own unique replay cameras.
The Gran Turismo 3 version of this track has the longest pit lane among the various tracks in the Gran Turismo series.
GT2's version of this raceway has more stands with partial roof covering.
Community content is available under
CC-BY-SA
unless otherwise noted.