Suzuka Circuit East Short Course (Suzuka East in some games) is a real-world circuit which features in Gran Turismo. The circuit is a shortened variant of the main Suzuka Circuit and first appears in Gran Turismo 4 and has returned in every game since.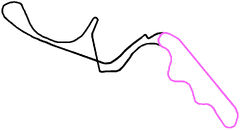 The East course of Suzuka features the first part of the main Suzuka Circuit from The Esses to Dunlop, then doubles back, bypassing inside the Casio Triangle chicane to the finish line. In Gran Turismo, it only has one sector.
The course begins on the start-finish straight, with a short run down to a tricky first corner. Turn One is a fast right hander which serves as a braking zone for turn 2, also a right hander. Although being longer and tighter than the first, turn 2 has an extended run-off area outside the normal line, so drivers can accelerate early out of the corner. The short straight continues to the Esses, a series of compound corners which are easy to learn, but very difficult to perfect. The Esses are a left-right-left-right series, each one a little tighter than the last, and each with its own elevation change. A good line here is essential, as a good time overall depends on compromising the exit to each turn in order to set up for the next. Continue to the Dunlop afterwards. This left hander, which would be taken wide on the full circuit, must be taken much tighter on the East Course so as to set up for the right-hand to follow. Here is where the track leaves the main circuit and takes the East Shortcut, a short section of track preceded and succeded by tight right handers. Finally, the track dives downhill and around a long, off-camber right hander towards the finish line.
In Gran Turismo
Edit
The Suzuka East Circuit appears in the following events, license tests and missions in Gran Turismo.
Gran Turismo 4
Edit
Gran Turismo 5 Prologue
Edit
Gran Turismo 5
Edit
Gran Turismo Sport
Edit
Community content is available under
CC-BY-SA
unless otherwise noted.