Suzuka Circuit West Short Course is a circuit which appears only in Gran Turismo 4, Tourist Trophy and Gran Turismo PSP and for unknown reasons hasn't returned to the series. It is a shortened form of the main Suzuka Circuit.
Due to the unavailability of a pit-lane, the west course does not host any events.
The West Course occupies the part of the main circuit between Degner 1 and 130R, connected by the West Shortcut.
Sector One
[
]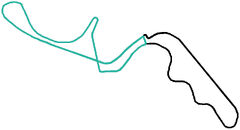 The start line of the West Course lies on a steep uphill straight, approaching the overpass of the figure-8 circuit. Immediately following this overpass is 130R, arguably one of the toughest corners in the world. 130R is a high-speed, high G-force left hander that must be taken to perfection to avoid running dangerously wide. Fortunately, the run-off is now tarmac, but running wide can still cost vast amounts of time. Out of 130R is a heavy braking zone for the 90 degree right hander to the West shortcut. The next right hand turn rejoins the main circuit.
Next is the 1st Degner, a fast right hander taken at almost full throttle in most cars, and then the much slower Degner 2 right hander. As the track passes under the overpass, sector one ends.
Sector Two
[
]
Following the crossover, the track heads slightly right, and immediately into the braking area for the sharp left Hairpin. Out of the Hairpin, the circuit follows a long, gentle right hand turn towards the Spoon Curve. The Spoon Curve is a downhill, off-camber, double left hander with no margin for error. Running wide here will beach the car in the gravel trap that lies outside of the corner After the second left, the track begins to climb, passing the inactive pit-entry, then across the finish line.
In Gran Turismo
[
]
Despite its appearances in GT4 and GTPSP, the West Course does not appear in any event. It is only available in Arcade mode and Practice modes.
See also
[
]