Toyota FT-1 Vision Gran Turismo Gr.3
Appears in
Gran Turismo Sport
Manufacturer
Toyota
Drivetrain

FR

Max Power
544 BHP
Length
5029 mm
Width
2080 mm
Height
1180 mm
Weight
1,280 kilograms (2,800 lb)
Power/Weight Ratio
2.35 kg (5.2 lb) per horsepower
The Toyota FT-1 Vision Gran Turismo Gr.3 is a race car produced by Toyota. It first appears in Gran Turismo Sport.
This car is an alternate version of the Toyota FT-1 Vision Gran Turismo, which was adapted to fit in the Gr.3 class, where cars based on FIA GT3 regulations are competing.
Acquisition
Edit
This car can be purchased in the Toyota section of Brand Central for 450,000 Credits. It can also be obtained by signing a Manufacturer's Series contract with Toyota, which is valid for one Manufacturer's Series season and allows the car to be used in Manufacturer's Series races.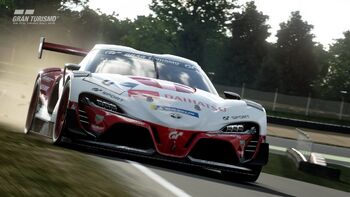 The interior of this car (as compared to the original variant which recycles the one from the road car) now features a more realistic, race-ready interior.
The sound of the car may suggest a high-revving turbocharged inline-4, similar to Super GT cars.
Compared to the original Toyota FT-1 Vision Gran Turismo, this Gr.3 variant is not a hybrid, which may explain the reduced power.
Despite carrying Falken sponsorship, the car reuses default tire stickers from the original car, although tire stickers can be changed.
In pre-release screenshots, the door-side decals has Toyota text instead of Toyota Gazoo Racing logos. The Toyota text on the front and rear is also larger and more prominent.
In version 1.45, a bug existed where the car's default number plate would disappear on the car's default livery and when the Default number plate option was selected on the Livery Editor. This was fixed in version 1.50.
This car was used to represent Daihatsu during the Manufacturer's Exhibition race held at 2019 Gran Turismo World Tour in Tokyo (coinciding with 2019 Tokyo Motor Show), as Daihatsu does not have a Gr.3 car. The livery the car used in the race is based on Daihatsu's racing livery, as used in the cars like Daihatsu Storia Rally Car in GT2.
Community content is available under
CC-BY-SA
unless otherwise noted.