New Pokemon Games - The Loop
Play Sound
The Twin Ring Motegi Super Speedway is an oval track in Japan. Renowned for its shape similar to that of Darlington Raceway in the United States, it is part of one of the most famous racing complexes in the world: Twin Ring Motegi. It is one of three Real Life oval tracks in the series, the others being Daytona Superspeedway and Indianapolis Superspeedway. It appears in Gran Turismo 4, Tourist Trophy, Gran Turismo PSP, Gran Turismo 5 though in DLC and Gran Turismo 6.
Track Description
[
]
Players who have driven on Super Speedway in GT2 and 3 should have no problem here. The track is virtually idenical to its predecessor, the only layout differences being that the Turn 3 and 4 stands have been abolished and the AI's pit exit point is no longer in the middle of the backstrech, instead having been moved to the entry of Turn 1. This demo lap was driven with a stock Toyota WedsSport Celica (JGTC) from GT4.
Section 1 (Turns 1&2)
[
]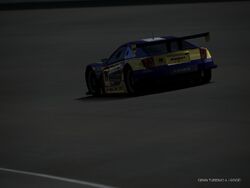 Turn 1
[
]
Coming to the starting line, get up against the right-side wall and turn as the track starts banking. Put your left side wheels on the white line (the CPU usually runs under there, but that's a touch risky with hard tires) and lift off of the throttle a touch. Normally, with optimal grip (green tires on the indicator) you'd be able to hold it fully open, but with cold tires (blue on the indicator) it's best to be a bit safe so you don't run into the wall. Just make sure you don't heat your tires too much (red on the indicator) or you will lose control of your car even during a straight.
Turn 2
[
]
Hit the gas and bring the car back to the wall, making sure to do so rapidly but not too rapidly, and accelerate to the time point ahead.
Section 2 (Stadium Turns 3&4)
[
]
Turn 3
[
]
Brake hard for turn 3 and get down on the apron. Depending on where you enter, you should be able to run 25-50% throttle for the remainder of Turn 3 and a little of Turn 4.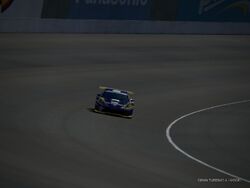 Turn 4
[
]
Wait for about 25 feet of Turn 4, then hit the accelerator, bringing the car to the wall again as you do so. Now that you've got the basics of high-speed cornering down, you can move onto something more difficult.
GT4 Race Beginning Classification
[
]
The race begins with all six cars at 50mph. Therefore it is advisable to qualify if possible to begin the race with an advantage.
Events Featuring Twin Ring Motegi Super Speedway
[
]
GT4
[
]
Professional Events
[
]
Extreme Events
[
]
Japanese Events
[
]
One Make Races
[
]
Endurance Events
[
]
Notes
[
]