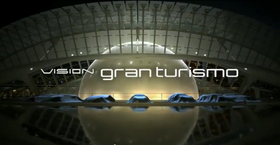 Vision Gran Turismo is a Gran Turismo 15th Anniversary project led by the creator of the series, and the CEO of Polyphony Digital, Kazunori Yamauchi, involving 33 of the world's leading automotive companies to design their rendition and concept of "Gran Turismo" (a Grand Tourer/2-door sportscar).
The ProjectEdit
The description below was taken from the Gran Turismo Official Website.
The Vision Gran Turismo project started with a single question from Gran Turismo founder Kazunori Yamauchi: "Would you design your rendition of the ideal GT for us?" GT stands for Gran Turismo or Grand Tourer (where the game got its name from), which describes a sporty performance coupe.
Many manufacturers accepted our offer, and now there are many "ideal" Grand Touring cars represented in the game. Vision Gran Turismo, which began as project to celebrate the game's 15th anniversary, continues to bring together the automotive passions of you, the user, and the car companies. The cars have been introduced one at a time throughout the Gran Turismo series, and the project will only increase in popularity as more and more people sample these unique machines.
Participating CompaniesEdit
Alfa Romeo (withdrew their project in November 2014, due to unknown reasons, and was removed both in-game and from the site[1])
Bertone (withdrew their project, as the company had already become defunct, and was subsequently removed both in-game and from the site[2])
GM Design
Italdesign Giugiaro
Jordan
Concept VehiclesEdit
So far, 25 manufacturers have revealed their concept cars and/or implemented it in the series.
Gran Turismo 6Edit
Gran Turismo SportEdit
ReferencesEdit