Vitz Race (GT3, Beginner)
League Level
Beginner
License Level
None
Series Type
Championship
No. of Races
5
Tyre Restriction
No restrictions
Tyre Wear
No
Car Type Restriction
Toyota Vitz/Yaris
1st Place Prize
5,000 Cr
Championship Bonus
10,000 Cr
This article is about the beginner event from Gran Turismo 3. For other meanings, see Vitz Race

The Vitz Race (called Yaris Race in the PAL version) is a five-circuit championship-race event in Gran Turismo 3: A-Spec. It is housed in the Beginner League area of Gran Turismo mode.
Typical Opponents
Edit
These are the typical opponents of this event:
Prize Structure
Edit
Prize Money
Edit
1st: Cr. 5,000
2nd: Cr. 1,500
3rd: Cr. 0
4th: Cr. 0
5th: Cr. 0
6th: Cr. 0
Overall Champion: Cr. 10,000
Prize Car
Edit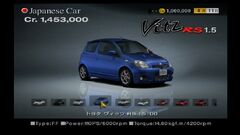 References
Edit
Community content is available under
CC-BY-SA
unless otherwise noted.