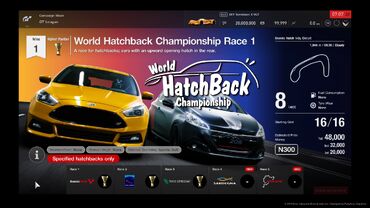 "A race for hatchbacks; cars with an upward opening hatch in the rear." - in-game text
The World Hatchback Challenge is a 5 race event that appears in Gran Turismo Sport. It was added to GT League mode in update v1.19. The event is housed in the Amateur League of GT League mode.
The event is aimed at amateur drivers and is restricted to hatchback vehicles. While there are no restrictions regarding the maximum power of the car, the handicap bonus is assigned only if the player enters a car ranked below the N300 class.
Event Restrictions
[
]
Maximum Power - None
Minimum Weight - None
Maximum Tyre Rating - Sports: Soft
Allowed Cars
[
]
Races
[
]
Prize Structure
[
]
1st: Cr. 48,000
2nd: Cr. 32,000
3rd: Cr. 20,000
Trivia
[
]
A Renault Sport Clio R.S. 220 EDC Trophy '16 used to feature as a rival opponent in the third race, but was removed in a later update for unknown reasons. This makes it the only allowed car in the event to not feature as an AI driven vehicle.